The adventures on the bus in Addis were just the beginning. I had a night flight up to the northern City of Bahir Dah and needed to organise transport the next morning out to the source of the Nile.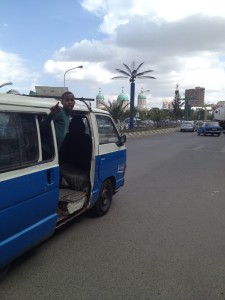 At 11pm at night, in a dark and dusty town, I met four unlicensed, unregistered, dodgy characters, in the following locations:
In the foyer of a cheap hotel

Out the front of a bus stop

A shuttered fruit stand

And next to an unlit, rundown service station.
The next morning I chanced on the service station guy and headed out of town at 20 kilometres an hour over a potholed dirt track.
Where I'm from, people park their cars, go into shops, meet in pubs, and life happens inside.
Here, in rocky roadside Africa, people don't have cars, so they walk, and shops open out onto the main road, so people meet there. The road is the quickest way to get from point A to point B so farmers move their herds along them. And to stay close to this action, people build their homes beside the road too.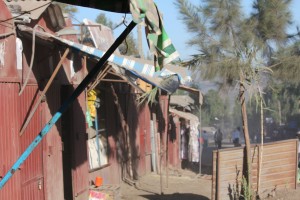 And the homes are patched in mud, grass, and odd bits of cement sheeting and aluminium sidings, all squished together just to emphasise how close the community is.
Unlike in the western world where we're all so organised and strategic about town planning, here, in Ethiopia at least, this chaotic civic communion, and pulse and rhythm of living, is so damn watchable from the front seat of a beat up Toyota mini van.
Villages along the road brimmed with African life. A pregnant woman sieving rice over a crisp white sheet smiled white shiny teeth as we rattled past. A wide eyed 4 year old waved to us as though we were the coolest thing they'd seen all day. Or ever. Old men in dusty shawls stood with walking canes taller than they were, huddled and crouched in groups. (and all I wanted to know was what they were talking about.)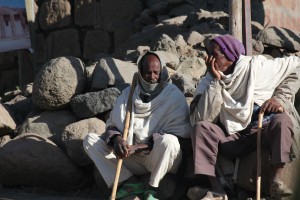 At the source of the Blue Nile, I ticked the 'Livingston-I-Presume' role play off my bucket list, took some photos of the sunset and drove back to Bahir Dah, bummed it was nighttime and I couldn't see the roadside movie along the way home.
Back in town, I saw the fruit stand guy and felt guilty I didn't pick him that day, so I went with his 'private car' promise for $30 to get me to my next location. He gave me three options for catching a bus. 5:30am, 6:30am and whenever. I took the last option and the next morning found myself at the bus lot waiting for two hours in a van until enough people filled it so it was profitable to go anywhere.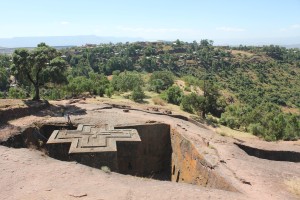 Some kid got the front seat so I forked out another 6 bucks to get the best view for the 7 hour drive to Lalibela; an historic mountain town built above churches carved into the rock.
The bus wasn't going directly there, so I had to connect to another bus in a nondescript town along the highway. This is where the 5:30am and 6:30am buses out of Bahir Dar made sense. They left at that time so they could connect with the buses heading up to Lalibela. An important fact my fruit-stand-$30-private-car-guy left out.
Luckily a couple of phone line telco guys had driven up from Addis and were laying lines further up from Lalibela. They saw a white guy bundling out of a tin can Toyota van in the middle of nowhere and knew I was on my way somewhere else.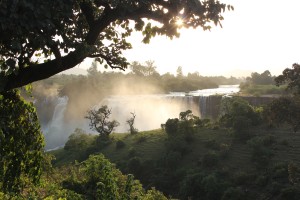 They offered me a lift, and I couldn't refuse. But there's always that lingering doubt – an unfortunate fact about touring in 3rd world countries that you can never shake: Is there a religious sacrificial purpose to their friendliness?
In a novel twist, the telco guys had a weeks supply of a narcotic plant called 'chat', a relatively harmless, though eventually dumb, pastime. Consumed like chewing tobacco, it produces a mild buzz something like that just-walked-out-of a-movie-theatre-in-the middle-of-the-day feeling.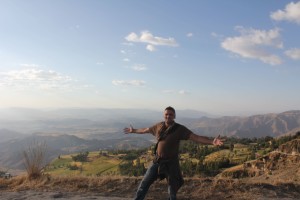 After two lip-fulls' of the stuff, with the window down and sitting high on the front seat, the vast African valley around me looked like one big instagram filter.
The telco guys dropped me off in the centre of town and I walked across the road to the first hotel and got a room for $40 with gobsmacking views of the valley.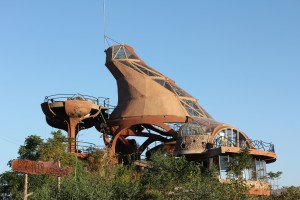 Later, I walked to the edge of town where a crazy Scottish woman had built a cafe that looked like a 3D rendering of a Salvador Dali painting. Inside, warped walkways led to seating areas propped like flower pods floating above the valley. I sat on one with a cold beer watching as the late afternoon sun lingered like a lazy dog over a patchwork rug.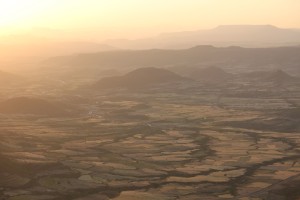 Lalibela is home to hand-carved-in-rock 1000 year old churches. Strolling through them, with my Indiana Jones soundtrack in my head, all I really wanted to do was find the ark of the convenant and get chased by bad guys.
This didn't happen, instead, I plodded around with all the other tourists with camera's around their neck. But it was in the back streets, where tourists don't go, that Ethiopian life came out on the street to greet me.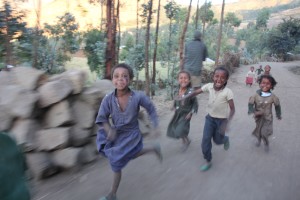 Kids kicked rolled-up goat hide in a dusty field, mothers weaved away the afternoon as they sat giggling on their sun drenched front door steps. And the aroma of fresh brewed coffee ceremony's wafted around each corner.
I got the feeling as I left Lalibela later that day that I could return in a thousand years and probably still find a mountain town living as it has for the past thousand years, but there's was no way I would take a bus there again, especially after what happened next…